Snooze Flip is the flagship mattress by Snooze Sleep Co., the sister brand of Snooze Mattress Co., the mattress stores franchise. The company founder is already a celebrity: author, entrepreneur, participant in the TV show The Undercover Billionaire, and the heart and soul of the pajama crew present at all U.S. bedding conferences.
Although rather new to the market, the brand comes with an intriguing offer: a 4-in-1 mattress that can be flipped and have its cover reversed to meet the preferences and needs of any sleeper. One side of the mattress is soft. The other side is firm. The cover is 2-sided as well: cool and warm. By combining these, you get 4 comfort options in the same mattress:
soft & cool
soft & warm
firm & cool
firm & warm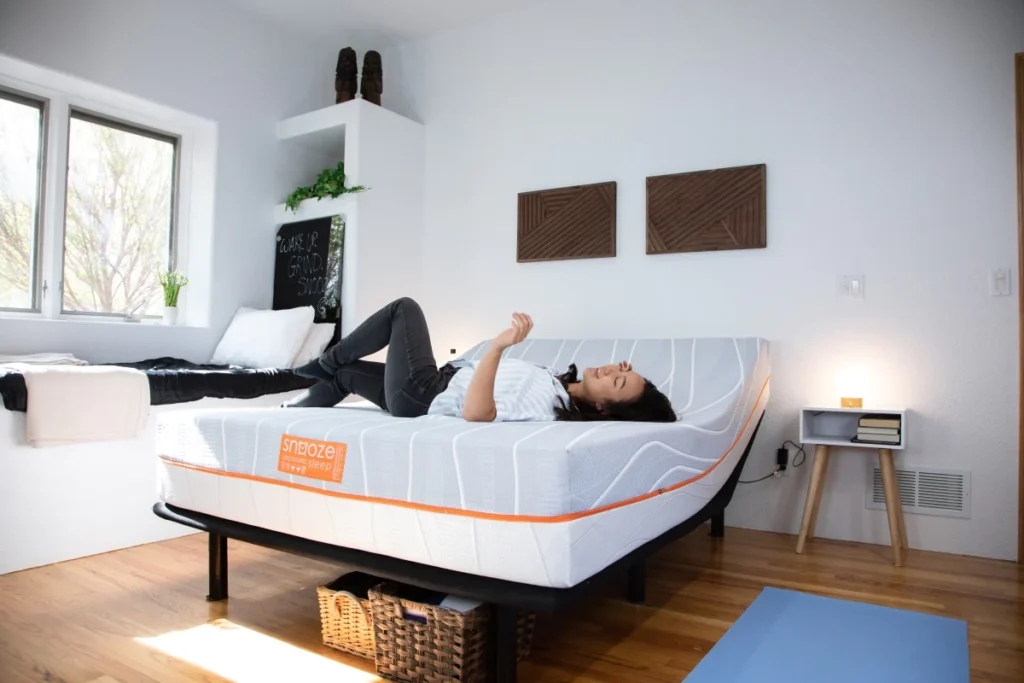 They also offer a series of accessories ranging from a smart adjustable bed to sheets, mattress protectors, and pillows. In their store, you'll find everything you need to furnish or upgrade your bedroom as far as sleep products are concerned. We decided to focus on the mattress in the following lines, as it is the most intriguing.
Snooze Flip 4-in-1 Mattress Review
Delivered compresses, in a box, for free, this mattress is backed by an impressive 365 nights trial. With a thickness of 12'', it's thick enough to feel solid, comfortable, and luxurious, but not too thick for adjustable beds, Murphy beds, and trundle beds. It's available in twin XL, queen, king, and split king sizes.
For unboxing, we recommend a party of two. The box is bulky and heavy for one person, and can be difficult (but not impossible) to carry and maneuver, especially if the process involves climbing or descending stairs.
It helps to strategize and only remove the plastic wrap when you have the mattress in position. If you already anticipate the best side for you (soft should work for side sleepers while firm would be best for back and stomach sleepers), place it accordingly.
While the mattress begins to recover and inflate as soon as you remove the cover, it's best to give it 24, even up to 72 hours. There should be little off-gassing but an open window is always helpful with new mattresses and carpets.
The cover has an orange zipper that facilitates removal and flipping. Half of the cover is white and made of a SteelFeel high-density polymer with cooling properties. The other half of the cover is grey and made of a deep-pocketed, plushy fabric that feels warm and cozy.
Both sides have stylish relief patterns that not only improve the overall mattress but also increase surface adherence, preventing the bedding from wrinkling and slipping.
Snooze Flip Mattress Layers: Materials and Construction
Snooze seems to have gone beyond the common CertiPur-US memory foams and the Oeko-TEX 100 fabric in building their mattress and bedding products. They used proprietary materials that promise superior cooling, support, and breathability.
Snooze Swirl™ cooling gel foam for improved consistency, cooling, and durability
SnoozeTex™ blend of foam and latex for added support, bounce, and health and environment protection
SureAlign™ support foam with a density of 2lb density for enhanced lumbar support, spine alignment, and stability.
Steel Feel high-density polymer fabric for absorbing and dissipating body heat.
Here's how these are distributed throughout the mattress:
Cooling gel comfort layer – 3'' of Snooze Swirl™ foam
Transition foam layer with advanced lumbar support – 2''
High-density support foam layer – 4'' of SureAlign™ foam
High-performance layer – 3'' of SnoozeTex™ foam
We've seen flippable mattresses using the high-density support layer as a top layer for the firm side to cut corners. It's encouraging to see that Snooze Sleep went the extra mile and gave proper consideration to each layer, developing new materials and combinations and packing them so nicely.
Key Features and Benefits of the Snooze Flip Mattress
Innovative and versatile 4-in-1 design bound to meet most sleep needs.
Soft side great for side sleepers and firm side great for stomach and back sleepers.
Cooling steel feel cover side made of high-density polymer for summer and warm plushy cover side for winter.
12'' thickness, perfect for luxurious comfort but not too high for Murphy beds, trundle beds, and adjustable bases
New, proprietary materials to improve support, cooling, comfort, and overall mattress performance.
365 nights risk-free trial
Long lifespan – manufacturer mentions over 100 years!
Available for hands-on testing in Snooze Mattress stores
Wide variety of accessories to choose from: adjustable base, brushed sheets, two mattress protectors and two pillow models
Main Weaknesses
No hybrid alternative.
No twin, full, and California king sizes available, only twin XL, queen, king, and split king.
At $1499 for the queen size, the price can be a little high for some budgets. However, keep in mind that this is a very versatile mattress that you are likely to use for over a decade, and your comfort and well-being should be well worth the investment.
Snooze Flip 4-in-1 Mattress Conclusions
If you understand the importance of good, restful sleep, you'll understand why the Snooze Flip mattress is so amazing and worth it's not so affordable price. It's probably the first mattress on the market designed for real people, with changing needs and preferences.
Just because you sleep on your stomach now, or you sweat a lot in the summer, it doesn't mean you have to put up with hip and shoulder pain when you start sleeping on your side or freeze in winter. All you have to do is flip your new mattress and/or its cover to meet your needs again.
If you're married, in a serious relationship, or with plans to get serious, consider a lifechanging investment: a split king combo. With the Snooze Flip mattress and the Snooze X Ergo Motion adjustable base, you and your partner's sleep and comfort will be guaranteed.