SweetNight Prime is a new release on the American mattress market, supposedly the only one of its kind. It comes to revolutionize the sleep industry with an all-foam patented design with four firmness levels promising to keep up with the sleepers' ever-changing needs.
The manufacturer, SweetNight, has been on the market since 2011 and has an excellent reputation. They have thousands of excellent buyer reviews on third party retail websites and their products are regular Amazon's Choice and bestsellers. The company seems to be taking a new path, with a new series of innovative, wellness-focused products that remind us of as-seen-on-TV products, although we have no reason to believe that the low-quality vs. high-price rule often applicable to as-seen-on-TV products applies to them.
Besides the mattress that we review below, they recently launched an eye mask/massager with cold and warm compress features and a heated blanket that converts into a robe. Both products have received great third party reviews and endorsements.
What's the fuss with the new mattress and does it live up to the hype? Let's figure it out together in this in-depth SweetNight Prime mattress review.
SweetNight Prime Appearance and Unboxing
Another bed-in-a-box, Prime comes with free shipping and returns. Like the other SweetNight mattresses, it has a 100 nights money-back guarantee or trial period, and 10 years warranty. Buyers can choose between 10-inch and 12-inch thickness options. The sizes available are twin, full, queen, and king.
With the 12'' queen box measuring 20″ x 20″ x 33.5″ and weighing 81.5 lbs, one person can unbox it, but carrying it up or down the stairs is better handled by two. Once laid on the bed and unwrapped, it's best to let it decompress and recover for up to 24 hours before sleeping on it.
SweetNight Prime's cover is made from breathable jacquard, a dark and light grey combination with a checkered monogram pattern. It not only looks and feels well, but it's also anti-pilling and keeps the bed sheets in place.
SweetNight Prime Materials and Construction
This mattress incorporates allergies- and environment-friendly materials: CertiPur-US foams and Oeko-TEX 100 fabrics. Even though it's not organic, It's free of dangerous chemicals.
The manufacturer advertises a new, patented design, called Contouring Curve, supposed to increase mattress versatility and, in our opinion, lifespan.
The concept is simple: mattresses are supposed to be used for at least 6-8 years but they become uncomfortable much earlier as sleepers' preferences and needs change. Each mattress comes with a firmness level that suits a specific sleep position.
For example, soft mattresses are better for side sleepers, while firmer mattresses accommodate back and stomach sleepers best. Medium-firm mattresses are best for people recovering from injuries and combination sleepers.
As sleepers change their habits and transition from one sleep position to another, a regular mattress becomes uncomfortable. Such a change could occur when someone gains or loses weight, gets married and starts sharing the bed and having sex, gets injured, or develops health conditions that force them to adopt a specific sleep position, etc.
The SweetNight Prime mattress aims to keep up with those changes. With 4 firmness options built into their mattress, when their needs change, all sleepers have to do is rotate or flip the mattress, to find the most comfortable zone for them.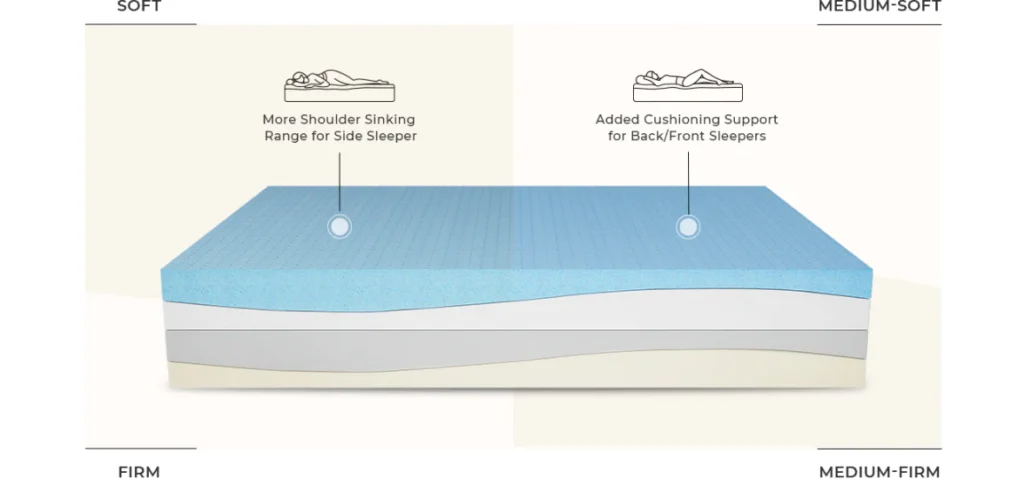 The four firmness options are the result of the above-mentioned patented design. SweetNight's R&D team followed complex calculations to cut high-precision curved layers of foams with different properties (cooling, density, thickness, bounce, airflow, etc.). They stacked them together to create 4 different comfort/firmness zones:
Soft zone
Medium-Soft Zone
Medium-Firm Zone
Firm Zone
To change firmness levels or comfort zones, sleepers have to rotate or flip the mattress, depending on how it's positioned and which option they need.
Unlike other mattresses, the Prime's foam layers have a unique S-curved shape with variable thickness across the mattress. They are distributed as follows:
Cooling gel comfort layer
Transition layer
Support layer
Firm comfort layer
Even though each layer is different, they all work together to provide the right combination of cooling, support, pressure relief, cushioning, and bounce required by each comfort zone to provide comfortable and restful sleep in compatible sleep positions.
Key Features and Benefits
Four firmness options in the same mattress – Whether you like your mattress soft, firm, or in-between, one of the four firmness options the Prime provides will surely be to your liking.
Two thickness options to choose from – Available in 10'' and 12'' thickness, this mattress can be used on any platform, including Murphy and trundle beds, adjustable beds, etc.
Suitable for all sleepers and sleep position – Whether you're a side, stomach, back, or combination sleeper, you should be able to find the right comfort zone for you on this mattress.
Great support – Each side of the Prime mattress provides ample support to the sleeper's key body areas, keeping the spine aligned.
Anti-slip and anti-pilling checkered cover – The Oeko-Tex cover is resistant to pilling and ensures proper adherence with the bedding. It should stand the test of time and also ease the process of making the bed.
Strong edge support – Despite being an all-foam mattress and lacking perimeter reinforcements or encasements, this mattress is pretty stable around the edges and lacks the fall-off-the-feel so common with other mattresses.
Great cushioning – Sleeping on the Prime, especially on it's softer side, feels like an embrace. The foam cradles the body and the sensitive, high-pressure areas, like the hips and shoulders, relieving pressure and strain.
Hassle-free delivery and returns – SweetNight ships mattresses 1-2 days from order receipt by Fedex or UPS. Buyers have 100 nights to sleep on the mattress and, in case they're not happy with it, return it for a full refund. We love the fact that return shipping is free as well.
Long lifespan – Backed by 10 years warranty and flippable, the Prime mattress should support you for years to come. Unlike other mattresses that can't keep up with lifestyle and preference changes and will become uncomfortable when those happen, this one can. All you have to do is flip or rotate it.
Excellent reputation and reviews – Unlike many brands on the market, notorious for bad customer support, high prices, or marketing hypes, SweetNight has positive reviews everywhere, from TrustPilot to mattress reviews websites and retail websites like Amazon.
SweetNight Prime Weaknesses
This mattress doesn't have many faults, and those we found are pretty easy to live with:
The firm side may not be cool enough for hot sleepers
Sleepers who don't like the traditional memory foam feel may prefer a hybrid mattress, like the SweetNight Twilight.
Those who care deeply about motion isolation may be slightly disappointed by the performance of the soft side.
SweetNight Prime Review Conclusions
Whether you're unsure what mattress you need or expect major lifestyle changes in your near and distant future, as long as you don't dislike memory foam mattresses in general, you'll love the SweetNight Prime.
It is the most versatile memory foam mattress we've seen to date, able to accommodate all sleep positions and compatible with all types of beds. Its price, ranging between $949 and $1049 for the Queen size, is decent as well, especially taking into account the specs.
If the price becomes an issue, although you shouldn't compromise on your sleep, comfort, and well-being, SweetNight has more affordable options as well, including the Dreamy memory foam mattress and the Twilight pillowtop hybrid mattress.
All in all, SweetNight Prime is definitely worth considering when you're in the market for a new mattress. Very versatile, and with a highly reputed manufacturer, it's often subject to attractive discounts.